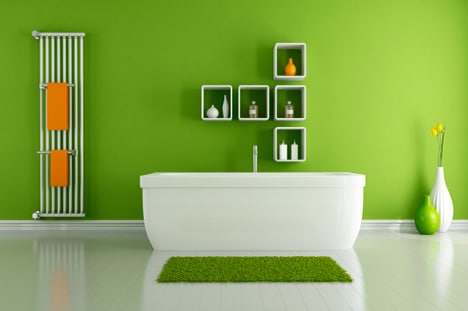 Green Clean Your Whole House with These Eco-Friendly Multi-Surface Cleaners!
*Click on the item title for more info
This non-toxic, botanically-based cleaner, which is certified by the U.S. EPA's "Design for the Environment Program" and the Natural Products Association (NPA), can tackle the toughest grease, grime, and dirt on just about anything from chrome fixtures to countertops to cooktops! Its light natural scent is sure to please everyone!

Leave it to Ed Begley, Jr., actor, author, and pioneering environmentalist, for putting together this natural cleaner containing an uplifting medley of aromatherapeutic essential oils and other plant-based, sustainable ingredients that makes cleaning an enjoyable, safe, and environmentally friendly experience!
Battle whatever kind of tough grime and dirt comes your way, knowing this all-natural cleaner with an uplifting clary sage and citrus scent, will take care of it! Because it's solvent free (i.e., it contains no ammonia, alcohol, ethers) and pH neutral, it's especially great for cleaning acrylic or plastic. Available in concentrate and large, industrial sizes, too.
Get some help from a new friend, Bill from Eco-Me, with cleaning your whole house in an environmentally friendly way! Simply spray this completely all-natural cleaner that is Leaping Bunny certified onto any type of surface, such as bathroom tiles or kitchen fixtures, and watch as it cuts through soap scum, mineral build-up, mold, mildew, and grime!
As fresh as a salad, this eco-friendly parsley cleaner with plant-based surfactants and a neutral pH naturally cleans virtually any surface in and around your home, such as countertops, clothing, walls, ovens, grills, and wooden decks. It's also great at removing sticky, stuck-on things like chewing gum, tar, creosote, tree sap, and more! Plus, it leaves no residues behind. Available in bulk sizes, too!
This all-in-one green cleaning product is not only all natural, but is USDA Certified Organic as well! It kills mold and mildew and its patented antimicrobial cleansing agents help kill the peskiest of odor causing bacteria, too. So, it's great for handling some of your yuckiest cleaning jobs, such as trashcans, toilets, bathroom tile, etc.
This non-toxic cleaner will definitely help you green your cleaning! The plant and mineral-based formula with a pleasant natural citrus-sage scent safely and effectively cleans and is free of preservatives, so absolutely nothing undesirable is left behind! All after-tax profits go to benefit the Imus Cattle Ranch for Kids with Cancer.
Why not let Martha lend you a hand with cleaning your house? Her all-natural, biodegradable cleaner is 99+% plant- and mineral-based with no synthetic additives of any kind. Plus, it has four third-party product certifications, including the U.S. EPA's "Design for the Environment Program" and Leaping Bunny, so feel rest assured it's gone through plenty of scrutiny!
Cleaning your whole house from top to bottom and everything in between is a simple and green affair with this earth friendly, lemon verbena scented cleaner. It's 100% naturally sourced, biodegradable formula, which is Green Seal certified, takes care of dirt, food, and oily messes without a problem!
Zoom through your cleaning routine with the fresh tea tree-citrus scent of this all-purpose, über eco-friendly cleaner that is great for cleaning anything from your floors to your kitchen counters. Feel good knowing that you are buying from a company that supports causes related to fighting breast cancer and helping animals.